In one of the most surprising carries of 2023 (to me), the Demko AD 20.5 found its way into my pocket in recent months and it's been a fun one. This is not the type of knife I'm traditionally drawn to, but the allure of a Demko lock and the distinctive style really got to me right out of the box.
Typically I am a "stock" guy when it comes to knives. However, I've noticed over the past few years that my collection has slimmed down and I'm buying and selling far less than I used to. The result is that I have suddenly wanted to customize the knives that I *do* carry – RGT scales, backspacers, etc. This is a new world for me, so stick with me here.
Thankfully the Demko AD 20.5 is a dream in this area. There are tons of aftermarket parts available – scales, backspacer, pocket clip, etc. I went with the Tero Tuf scales from RGT, which I also run on my Spyderco Para 3. These look pretty sweet, give some great texture and wear nicely.
The big draw of this knife (for me at least) was the Shark-Lock. Demko is known for his innovative lock mechanisms and this is no different. While it takes some getting used to, once you get the hang of it it's pretty cool and fidgety. There is some discomfort on the top lever that will always be there, and that just kind of comes with the territory on a lock like this. Overall, big fan here.
The blade steel is CPM-S35VN – so, great edge retention, corrosion resistance, and can tackle the toughest cutting jobs. From butter to boxes (pretty much my life), a-ok.
As always with Demko, this ain't no wimp – and it doesn't carry like it either. 3.5oz, 4.5″ closed and nearly .5″ thick means you'll definitely feel this in the pocket. However, the deep carry clip isn't bad and it's not the worst big knife carry I've had.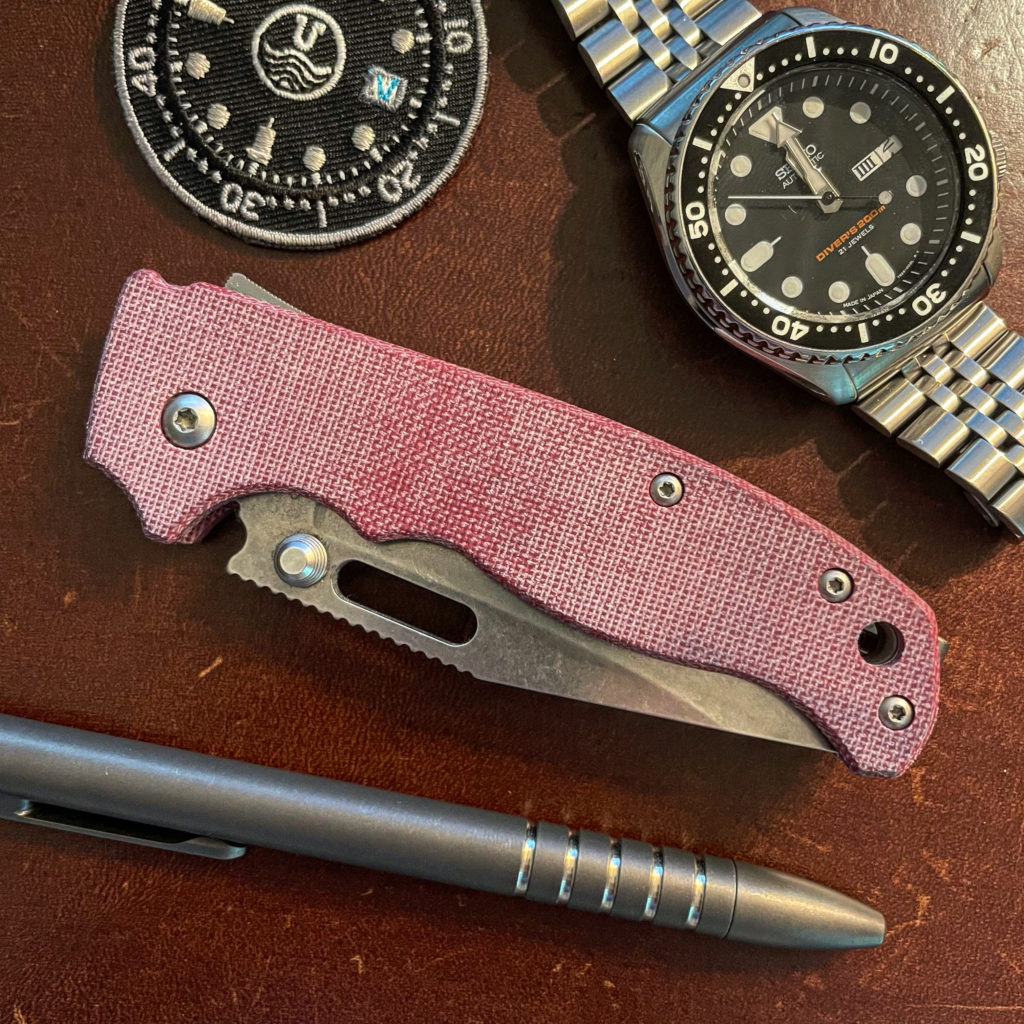 Overall, this was a surprising carry for me. I heard mixed reviews about this knife but I was a big fan after a lot of carry and use. I expected this to be a quick buy and sell just for review, but months later this one is still in the rotation.
This post may contain affiliate links. By clicking and purchasing, I may receive a commission. Thank you for supporting Bench Reviews!