While I have historically not been a huge Benchmade fan, the Bugout has long been one of my favorite knives. Lightweight, great blade, good ergos – what's not to like? Well, the price…but that's not the point.
The TaggedOut checks a lot of the same boxes as the Bugout, but on a larger scale. With a clip point blade, lack of thumbstud and different handle design, it's more than just a bigger Bugout, though. This knife is specifically marketed as a hunter's best friend – an outdoor knife, complete with a neon orange safety handle. In size and general purpose, I think it's actually closer to a Spyderco PM2 than a Bugout.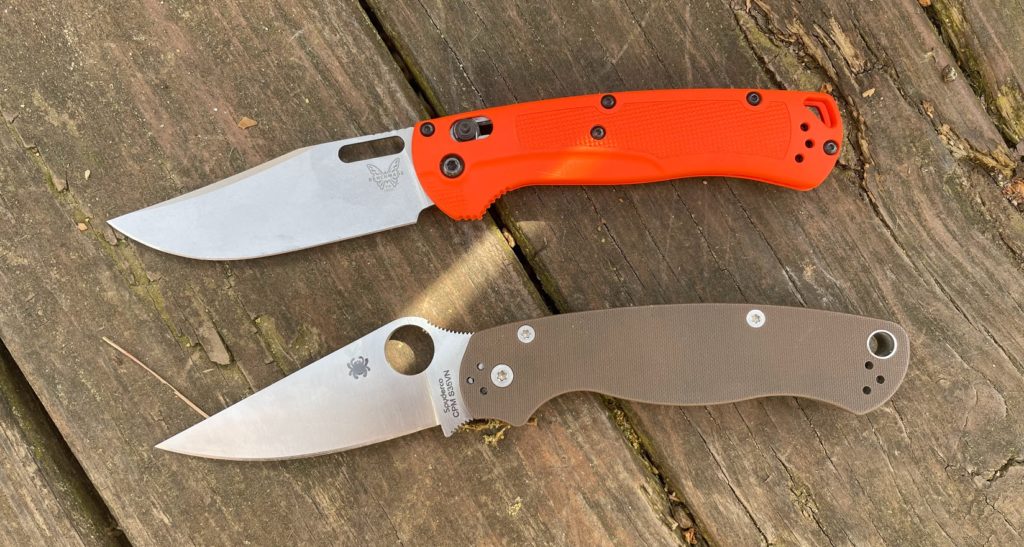 One of the interesting differences of this TaggedOut is the lack of thumbstud, which is atypical for this type of Benchmade. Instead, it features an ellipse-style cut out (think knock off Spyderhole). While this does give the knife a sleeker look and feel, I'm not a fan. I found it somewhat difficult to use, almost forcing a slow roll approach. I found myself tending towards using the axis-lock almost exclusively for opening and closing, which is less control than I would prefer for securely deploying the knife.
Overall, this is a stellar knife. With a thumbstud, it would be even better. Definite carry for me.
This post may contain affiliate links. By clicking and purchasing, I may receive a commission. Thank you for supporting Bench Reviews!