Ridiculous, but cool. That statement summarizes both the knife hobby in general, as well as my high level take on the Space Force line from Ka-Bar. When I saw the Corser pop up on one of the retailer sites earlier this year, I rolled my eyes, chuckled…and quickly purchased it. To be fair, I am a big fan of the cheaper Ka-Bar folders. The Warthog was a knife I always wanted prior to getting into the knife hobby, and the Dozier is still my all time favorite inexpensive knife.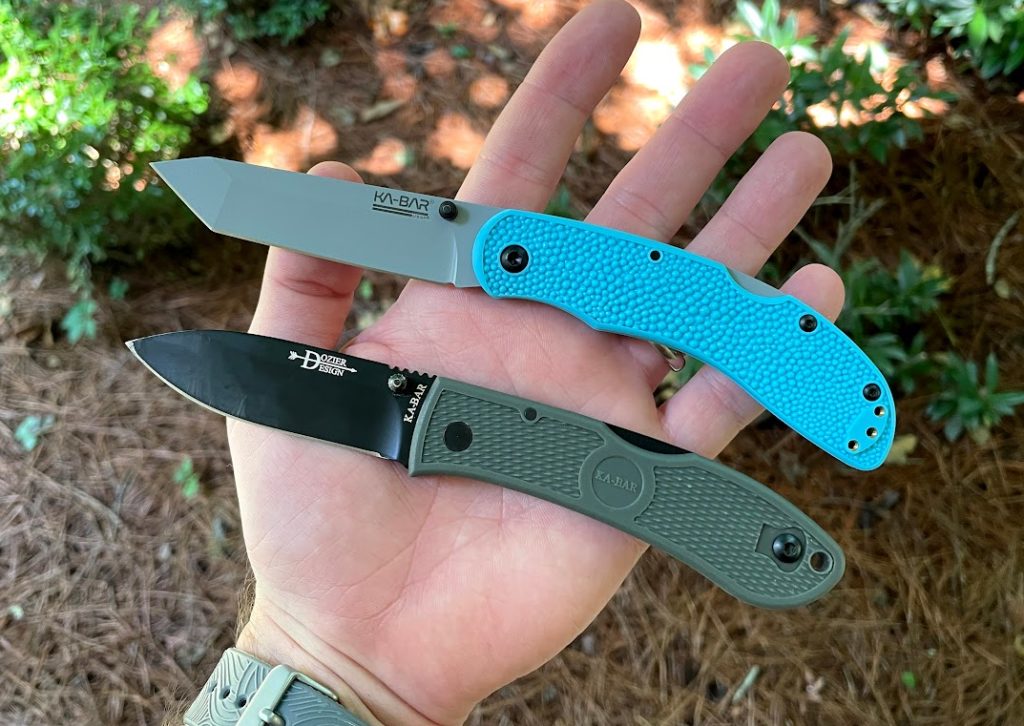 Indeed, the Corser shares many of the things I love about the Dozier, and surprisingly there are even a few substantial upgrades. For starters, let's look at the overall construction. The knives are not carbon copies – but they are kissing cousins, if not siblings. Simple, coated blades atop AUS8A steel (the Dozier is now available in D2, though I sold mine because I couldn't get on board with the ugly color scheme). The handle material itself is close enough that you would never be able to tell them apart – though one is listed as Zytel and the other "GFN-PA66", whatever that means. They plastic. The pocket clips are also, unfortunately, largely the same.
There are, surprisingly, a few changes that are significant improvements to the already fantastic Dozier platform. For instance – the Zytel Dozier handles currently have a simply diamond texture pattern. While slightly reminiscent of Spyderco's bi-directional "web" pattern, it works just fine and looks pretty nice. However, as funky as it is, the Corser's random pebble pattern is even grippier – but without adding discomfort, and the randomness of the pebbles really add a visual interest and significant utility to an otherwise gimmicky knife. I truly believe this pattern could be re-used with some refinement on future budget Ka-Bar offerings.
One other very cool aspect of the Corser handle is the palm swell. I honestly can't recall a similar knife on the market. It's subtle, but noticeable, and in my hand it works very well. Of course, something like this does come with the drawback of adding some thickness in the pocket, but in this case I don't think it's a serious flaw. Take a look at the comparison below.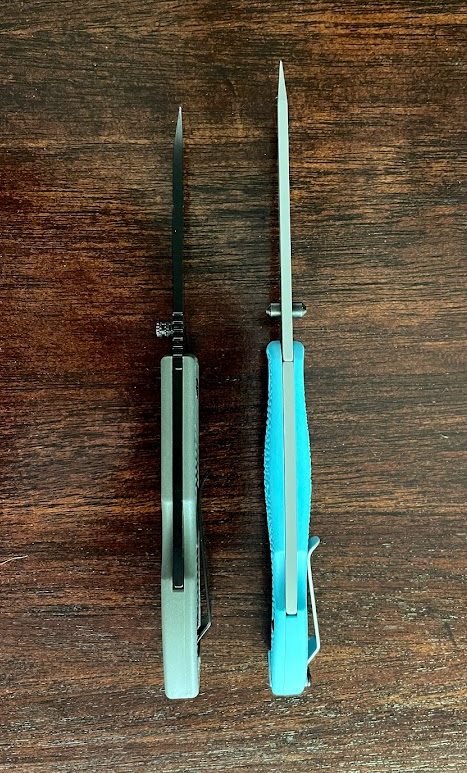 There are a few other little details that are refreshing. For instance, the Dozier is very "plasticky" throughout disassembly. It's pretty much 2 plastic pieces of Zytel, a blade and a spring – that is to say, no liner. The Corser has metal liners on both sides – full liners on a $30 backlock knife! This does add some weight, but it's like going from a Timex Ironman to a Casio G-Shock – they both keep time just fine, but one of them just feels nicer. It also seriously improves assembly/disassembly. The parts come apart much easier – just remove the pivot screw and pop out the pin. To re-assemble, line up the blade, put the pin back in and tighten the screw. The Dozier demands at least a few minutes of lining everything up and forcing the pivot pin through the poorly-stamped handles. While it's hard to get a good pic of the metal liners, check out the pocket clip holes – threaded inserts!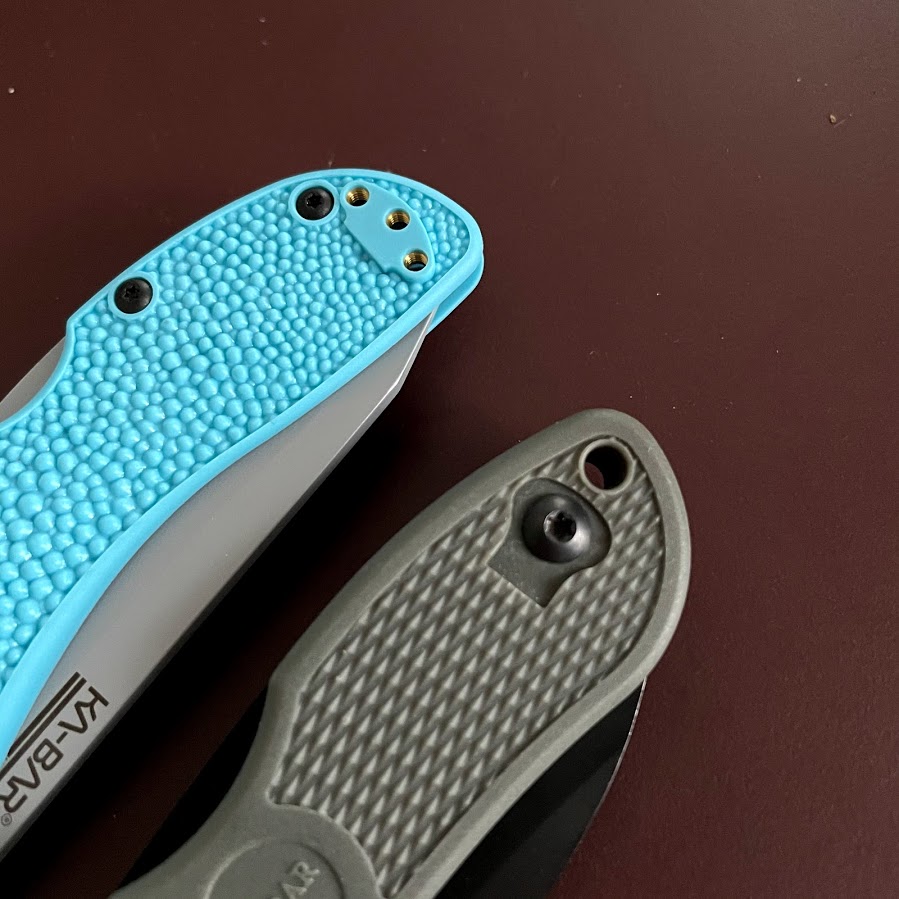 The blade on this guy is where I'm a bit conflicted. It's nice, and I even like the space-grey coating. I don't even mind the tanto – I've been warming up to tanto's over the last year. My main issue is that it's just too long, especially for a tanto. There are some totally valid use cases for this, but I don't encounter them in daily carry. The blade length is a generous 3.5″ – but only an average of .75″ wide. It's not bad, but the dimensions are just off to me. It's enough to make it seem impractical to me for daily carry (though I can't quite justify that feeling).
Overall, the Corser really surprised me. I expected a fun gimmick and was thrilled to see some true ideation and what I hope is a look into the future of Ka-Bar budget folders. Carry for me, though more for the overall satisfaction of the piece than the likelihood that it will end up in my pocket on a given day. Well done, Ka-Bar!
Ka-Bar Corser
Steel:AUS8A
Blade: Tanto
Handles: GFN-PA66
Price: $30
This post may contain affiliate links. By clicking and purchasing, I may receive a commission. Thank you for supporting Bench Reviews!