It is not lost on me that the most popular knife video on my channel is a Benchmade duel, as I am outspokenly not a huge Benchmade fan. Everytime I say that, though, I feel the need to qualify the statement by saying that I don't necessarily have any major issues with them – I just find them generally overpriced and by and large the designs don't do it for me. However, there are exceptions to that second gripe, and the Bugout and 940 are two of them.
These two knives stand at the forefront of the Benchmade catalog for good reason. Both are lightweight, made of great steel, a perfect EDC size and are available in a wide variety of colors. There is something here for both the collector and the daily user – a balance that is very difficult to strike in both the knife and watch worlds. The action is enjoyable on each thanks to the smooth and familiar axis lock. In a very real sense, you can't go wrong with either choice, which naturally means the level of troll that I get on YouTube from each side is unmatched.
Let's start with the 940. I find this to be a very nice looking knife – and aesthetically I probably prefer it to the Bugout. The blade has a unique reverse-tanto point, combined with a sweeping top swedge that balloons out to a thick spine. The interesting tip design gives this blade legs that stretch for days – a huge 3.4″ sharpened length, making for a very efficient utility piece.
In the pocket, the 940 shines – with a wonderful (though upgraded – so keep that in mind) deep carry clip that keeps it tucked out of the way. At under 3oz, plus a handle thickness of only ~.41″, this is pretty much exactly what you want for daily carry. So, cut & carry are both almost taken care of at this point.
There are 2 disappointing things about the 940 that push me slightly towards the Bugout. First of all, the G10 scales on my version have no distinguishable texture, although in pictures it appears otherwise. That's a super frustrating feature, especially on a material that performs so well when properly textured. For someone who sweats like a pig in the Deep South like myself, I need all the help I can get in the hot summers.
Secondly, and more concerning, the famous axis lock blade play. I've talked to several people over the last few years, and everyone has had a different experience with axis lock blade play, but everyone knew what I was referring to. And to be fair, I've experienced it with both the Bugout and 940 to some degree. But the 940 was significantly worse, and unlike the Bugout I was never able to get it properly tuned up. I either had an axis lock that would not close without intervention, or a blade that wobbled. I suspect that the reason the 940 seems to struggle with this more than the Bugout is that the blade is proportionally longer and thinner, and the axis lock mechanism is fairly narrow. The result is simple physics – not unlike the classic sagging gate arms you see in parking garages. There's simply not enough substance holding the pivot together to prevent the blade from moving when pressure is applied side-to-side.
Now, quickly, to the Bugout. While much of the same feedback applies from the 940 review, the Bugout does have a few characteristics that (in my opinion), outshine the 940. As light as the 940 is, the Bugout is a full ounce less, coming it at just under 2oz. What! Now, before you call this a disadvantage and bemoan the thin plastic handle: hush. For 90% of us, the Bugout is just fine, and these "issues" are immaterial. Sometimes a lack of "Lynn Thompson"-ness in a knife is not a bad thing.
Additionally, the blade. Now, this is where it gets super subjective. I tend towards wider, slicey drop points over tanto's, clip points, etc. There are plenty of guys who prefer the 940 precisely for its stouter blade – and that's great. For me personally, I found the Bugout to be easier/more useful in most of my daily chores. You can't go wrong with either, though, and both use one of my favorite steels – S30V.
At the end of the day, the comparisons between these two are probably not all *that* great. Yes, they're both Benchmades, both in the same price ballpark and both general good EDC blades. But to be honest, they're kind of different knives. I think the 940 would actually closer match up against the Kapara (if it was available in non-CF). But, as comparisons go, it's not awful.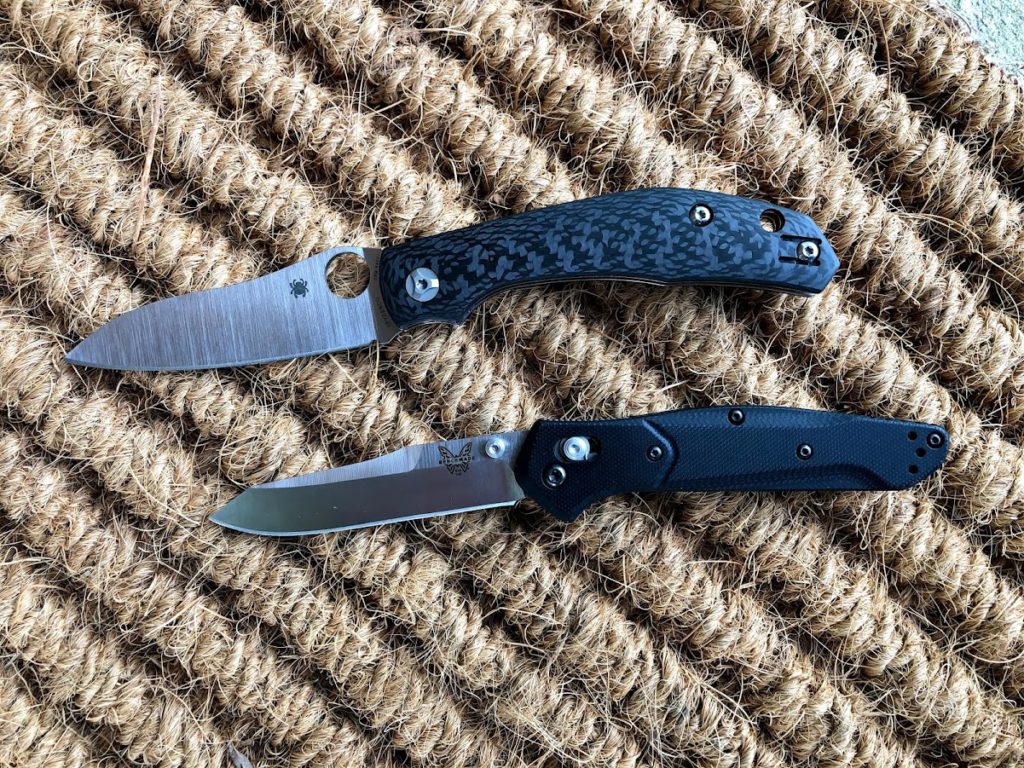 For me, the winner here is the Bugout. I carried both knives for a while, and I consistently went back to the Bugout. Fast forward a few years and honestly I don't even carry it anymore, but it's still an excellent piece.
Ok, have at me – call me a moron. I don't know how to use knives, I'm woefully ignorant of the finer points of Benchmade and probably don't actually use my tools like a real man. Except, I do. Scarcely a week goes by when I don't have some new house or woodworking project going on, I fish, hike and camp regularly and my kids keep the flow of packages coming to the house that beg to be cut open. I truly do use my knives, and I highly value a lack of fuss when it comes to those pocket tools. Which is why I'll probably skip both of these and head for a simple frame lock 🙂 Trolls, attack!!!
This post may contain affiliate links. By clicking and purchasing, I may receive a commission. Thank you for supporting Bench Reviews!