The past 24 months have been one of the most interesting of my life. The health, social and political events of the past 2 years have certainly been hard on everyone, and have had ripple effects in all kinds of unexpected places. For me, they have resulted in a physical move to another state, a change of church membership and finally a change of career. All immediately following the birth of our twins. Yikes!
For the past decade, I've worked in corporate IT – most recently in software delivery management. I had a wonderful career and many close friends over that time, and I'm thankful for all I learned and experienced. However, for many years I have flirted with the notion of leaving corporate America and doing something completely different. What? I had no idea…just that I wanted a new challenge and a different culture.
To keep a very long story succinct, the time has come. As of early 2022, I am officially Uncle Seiko's adopted nephew! I still can't really believe it. I'm incredibly thankful for the gear community – my very small, ill-fit Instagram and YouTube channels in many ways opened the door for this opportunity. So if you're reading, thank you!
Now, on to the fun things, and why you probably came here. For a while, I've had this idea in the back of my head for a better travel case for gear heads. I've often thought there was a gap in travel case offerings for guys who are in to both knives and watches. Think about it – taco pouches are intended for knives. Watch rolls are intended for…well, for watches. Pelican-style cases are impractical for air travel or a day at the office. There are certainly other zipper storage options that combine the two, but none of them hit that sweet spot of allowing enough storage while also being slim enough to throw into a briefcase, backpack or luggage.
So, I went straight to the Uncle himself, and convinced him that this was a serious problem for all of you true gear heads. We went to the drawing board, and after lots of trial and error, we have something we think you'll really like.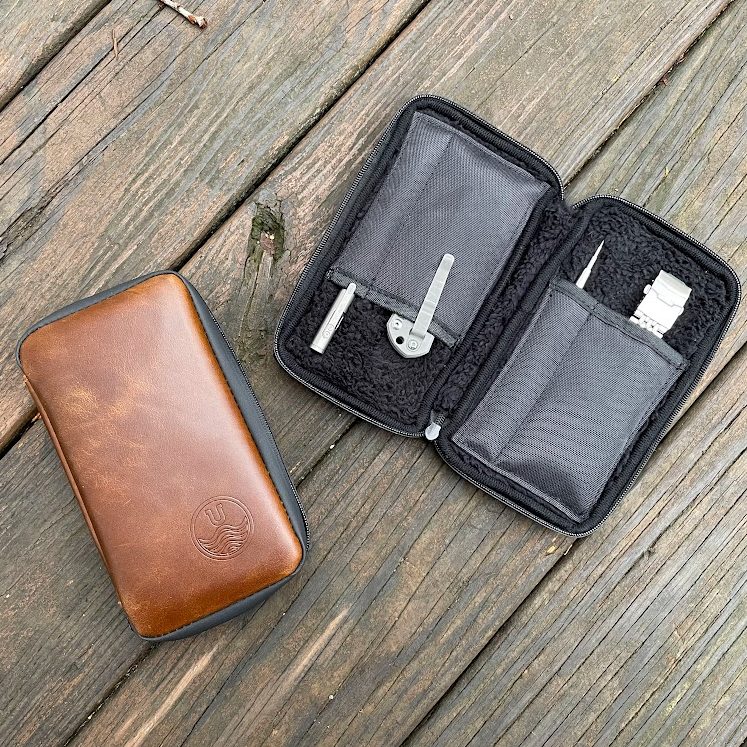 Ta-da! Uncle's EDC travel case, currently available in leather, black and orange nylon. I'm thrilled with how these came out, and so far the feedback has been excellent. I think they're the perfect balance between usable storage and slim design – small enough to throw in a messenger bag but robust enough to actually transport enough gear for an overnight. I've been using these for months, and I've found them to be very useful.
I can't wait to hear your thoughts – do you like it? Hate it? Have suggestions? Please let me know!
As always, thank you all for your viewer and reader-ship, and for making this all possible. I am incredibly blessed by the good relationships and opportunities in the watch and gear world, and humbled by all that's happened in the last few years.
This post may contain affiliate links. By clicking and purchasing, I may receive a commission. Thank you for supporting Bench Reviews!