Movin' on up! That's how I felt when Vosteed contacted me about reviewing the Nightshade Lt. I had not heard of the brand, but a quick search revealed some familiarity with the knife designer and some sort of a relationship with Kizer. As it turns out, while the original Nightshade was manufactured to some degree with Kizer, that is no longer the case for the current (and future, I think) iterations. I let them know it would be an unbiased review and that I wouldn't be afraid to list out the things I didn't like, or give it the full "cut" designation. They were on board, and I was super excited to get it in hand.
I'll be honest, I really wasn't expecting much. I'm honored to receive gear to review and am very thankful for the opportunity. But…a company I'd never heard of, a knife I had never seen…eh. My expectations were pretty low. Maybe that's why I was so surprised to have this show up at my door: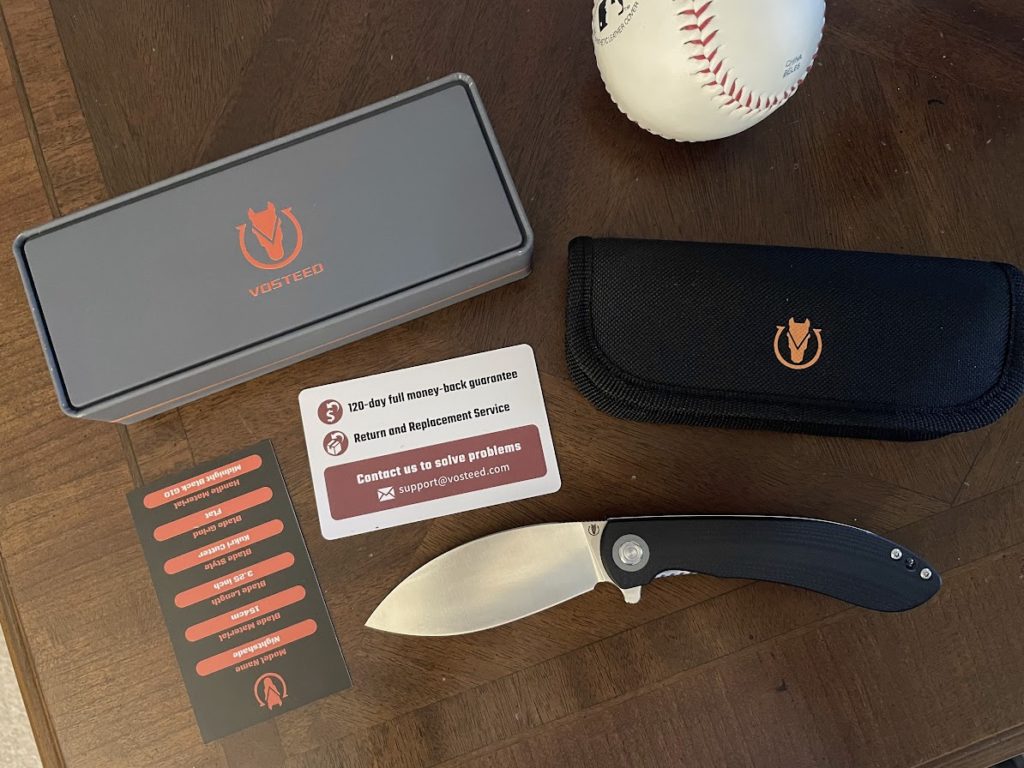 First impressions were definitely good. The packaging is a lot more than you would expect for the price point – a metal (?) box, taco pouch, knife, a spec sheet and support card. The spec sheet was honestly one of my favorite things included. I have seen this on higher end knives, but never on something on the lower end…pretty sweet. I can see that coming in handy if they release more configurations of the Nightshade.
However, packaging doesn't really matter if the knife sucks, right? I really wanted to be diligent with this review, so I took over a week to carry, use and inspect the knife. Over the course of that week, I did many of the things you might expect – tons of packages and letters, some light scoring, cigar cap removal, slicing and even some finer tip work when fidgeting with a butane Zippo. I carried this thing in the pocket every day for a straight week.
To be honest, it can get really annoying to carry a knife for review for an extended time. At this point in the hobby, I have a small knife rotation I'm pretty happy with and kicking them out of the pocket can be frustrating, especially if the review piece is hot garbage. To my surprise, within a day or two I looked forward to throwing the Nightshade Lt in my pocket, and by the end of a week it was a serious contender for regular carry.
My detailed comments are better captured in the video review below, but in short – this knife is just my kind of knife. I love big belly blades and I cannot lie. I love thin edges, leaf blades and smooth action. Subtle jimping that doesn't cut up my finger, a blade that drops closed effortlessly. A clip that I don't think about every time I jam it in the pocket or pull it out. And pure funkiness.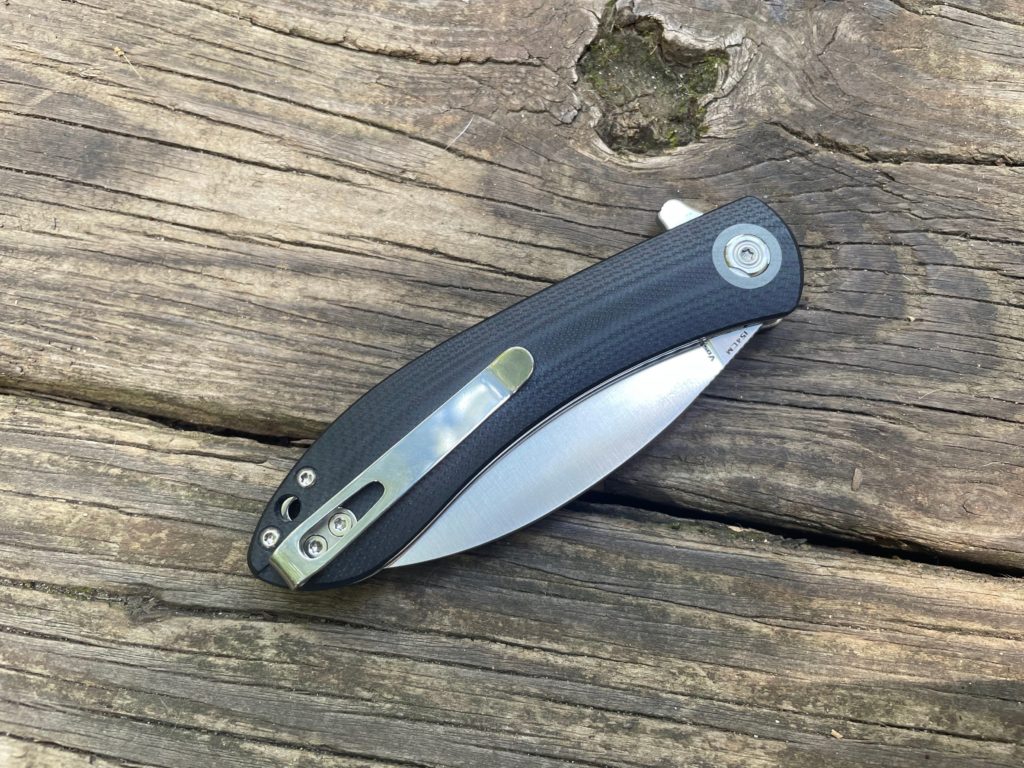 To be honest, it reminded me a lot of another knife I have loved over the years – the Massdrop/Laconico Keen. They are undoubtedly different designs, but they share a few things in common that really appeal to me – buttery smooth action on the open/close, a functional (albeit forgettable) pocket clip and that oh-so-sweet blade.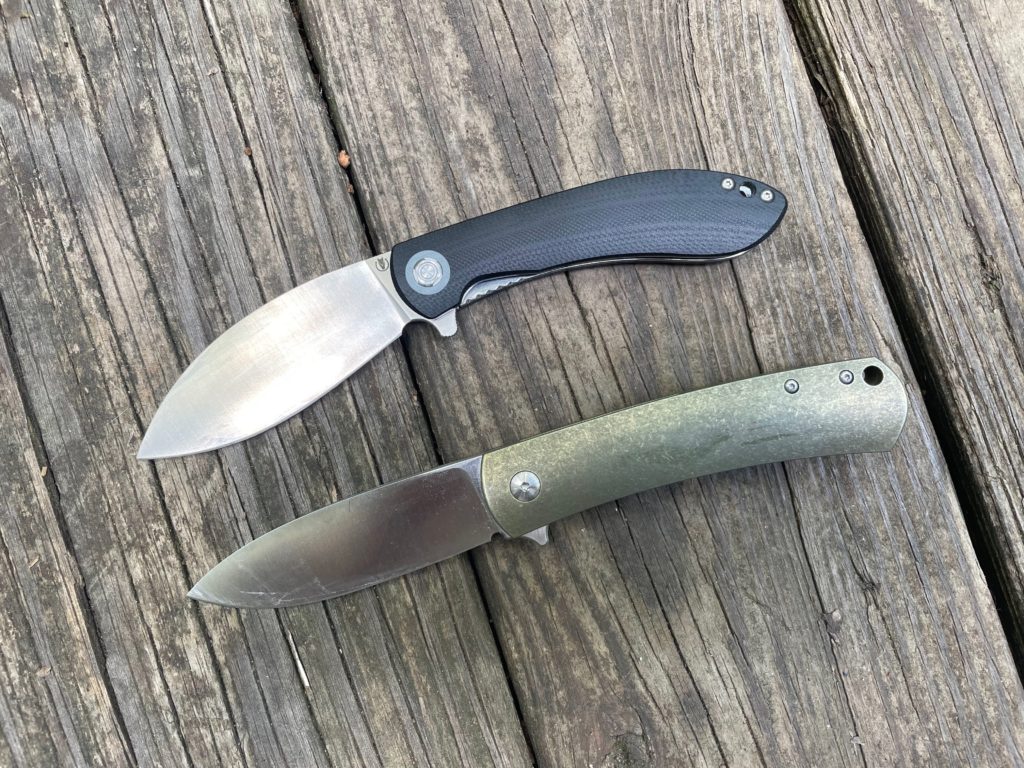 Dislikes? Sure, there were a few. I don't love the G10 pattern and wish it was a hair more grippy. The shiny finish on the clip and liners isn't aesthetically my favorite. I think it would be really sweet if Vosteed would release some more interesting scale versions, as the grey and black are kind of boring to me – there's a lot of potential there, and I look forward to owning one if they ever do. But…that's really it. I honestly sat on this a few days longer than I intended, because I really wanted to come up with some valid complaints so it wouldn't seem biased. Not fair to the Nightshade, but…
This is a huge carry for me. I don't review a lot of new releases, but this is the biggest surprise to me this year, easily. An excellent knife that will be in my pocket and one I recommend you checkout.
This post may contain affiliate links. By clicking and purchasing, I may receive a commission. Thank you for supporting Bench Reviews!