I recently had the opportunity to spend a few days with the beautiful Seiko Presage "Cocktail Time". Though our time together was relatively short, this dial left quite the impression on me. I mean, look at it.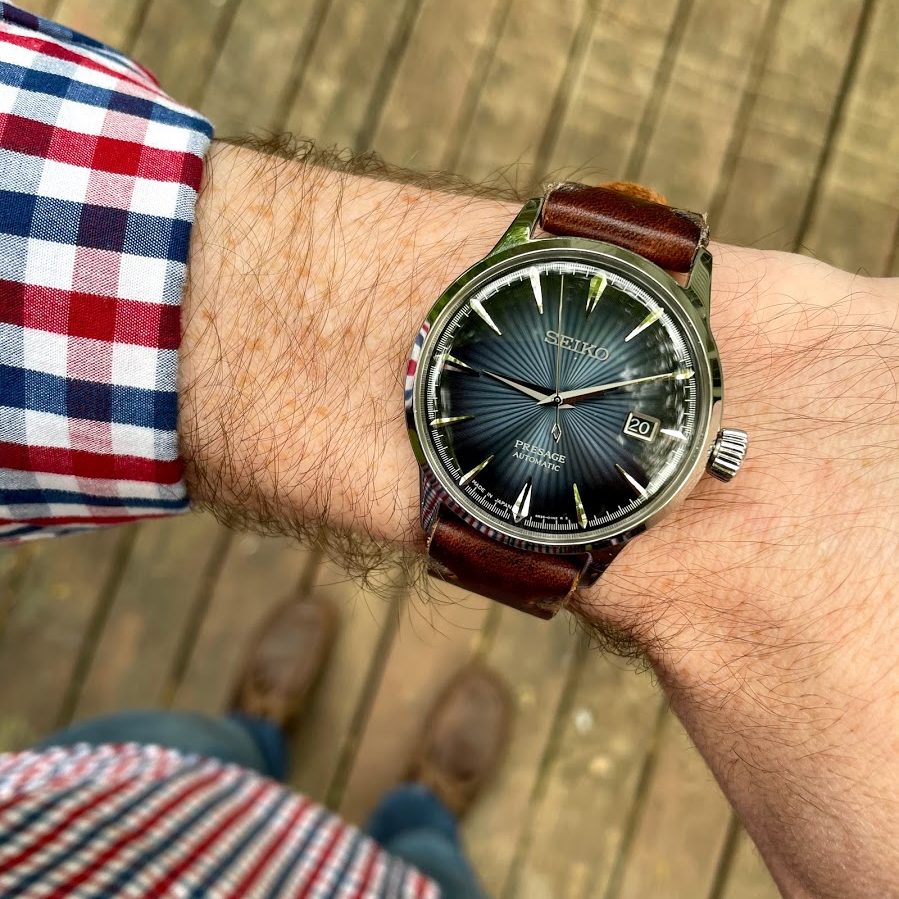 Stunning. The SRPB41 is from Seiko's Presage collection, their more upscale dress line that boasts some really beautiful time pieces. Over the last year, my interest in dress watches has fallen off quite a bit since I'm working from my house. Before the COVID shutdowns, I was really into vintage dress watches, as well as a few modern pieces from time to time. But after a year of sitting in a home office, you can find any given Seiko diver on my wrist most days and I really only wear something more refined (ha, me? refined?!) on Sundays to church.
My friend Russ and I recently did one of our regular gear swaps, and he sent over a few of his favorite watches to checkout (those reviews will come…one day). This Presage was in the mix. If I'm being honest, at first I kind of put it to the side – I didn't want to beat it up and didn't really have an occasion to wear it. But as it sat in front of me on the desk, I couldn't stop staring at the dial.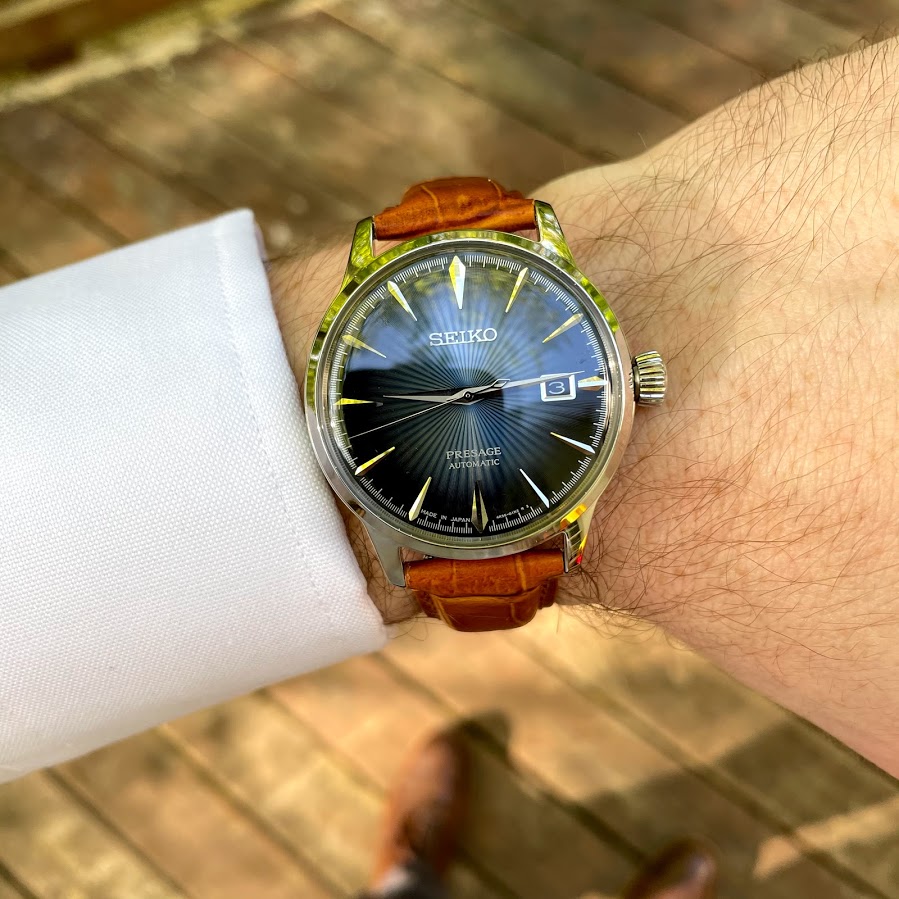 I often struggle to review watches – Seiko's in particular. There's a fundamental utility to knives that is different than watches – maybe it's as simple as the mechanics of opening, the lockup, slicing, the close, the clip to the pocket, etc. But watches are…well, they're watches. They (usually) serve a fairly singular purpose, and their ability to do that well is a lot more binary than a knife. I say this hypocritically – I debate, discuss and often obsess over meaningless details of watches. But at the end of the day, there's just a lot less room for subjectivity when it comes to the utility of a watch. Cue the angry townspeople.
This belief is even stronger when it comes to a Seiko. With a modern Seiko automatic, there's not really much to worry about in terms of the timekeeping ability or movement quality. It's great. It's pretty much great no matter what modern Seiko you pick up, if we're being honest. So then, nearly the entirety of a review like this is on aesthetics and preferences.
With all that said, this is a beautiful piece. It's one of those dials that always looked gimmicky to me in pictures – or at least, it looked like it would feel gimmicky in person. But it doesn't – it's far more understated and deep than the pictures depict. It catches light from time to time and really shines, but it's not flashy and isn't distracting. The large single crown at 3pm is bold, but fits the overall profile of the watch quite well. The dauphine hands are exactly what I would expect on a piece like this, and the indices match the hand set very nicely.
I only really have one real issue with this watch – maybe two if you consider that I think the crown is maybe a hair too large. But my only real problem with the Cocktail Time is that, for a dress watch, it's 1-2mm too large for what I prefer. As I said before, my tastes have been heavily influenced by dress watches from the 1940's up to the 1970's, and I do own and wear several very small beauties from those eras. The SRPB41 is not a vintage dress watch, though, and it shouldn't necessarily act like one. For me, though, I think it would be enough to regularly keep it off my wrists.
I'll call this a carry – while I won't be rushing out to buy one of these, I am impressed with it and would happily wear it…just not very often. Beautiful piece and another tick in the long history of Seiko gems.
Seiko SRPB41
Diameter:40.5
Lug width: 20mm
Movement: 4R35
Price: ~$300
This post may contain affiliate links. By clicking and purchasing, I may receive a commission. Thank you for supporting Bench Reviews!