From nearly the beginning of my watch obsession, I wanted a 36mm white dial, fluted Datejust. I know, I know. How original. I'm also the world's biggest SKX007 fan – pretty boring, right? Wrong! There's not a lot you can't do with a Datejust and SKX. Well, right at the end of 2022, I was able to pull the trigger on that grail.
Over the years, many watches have spent time on my "grail list". Most haven't lasted. The Datejust, though, has been unwavering. As the years have passed by and the watch remained chiseled, I grew concerned that I would overhype it in my head and it would ultimately disappoint. So when I finally bit the bullet and snagged on, I was a bit nervous.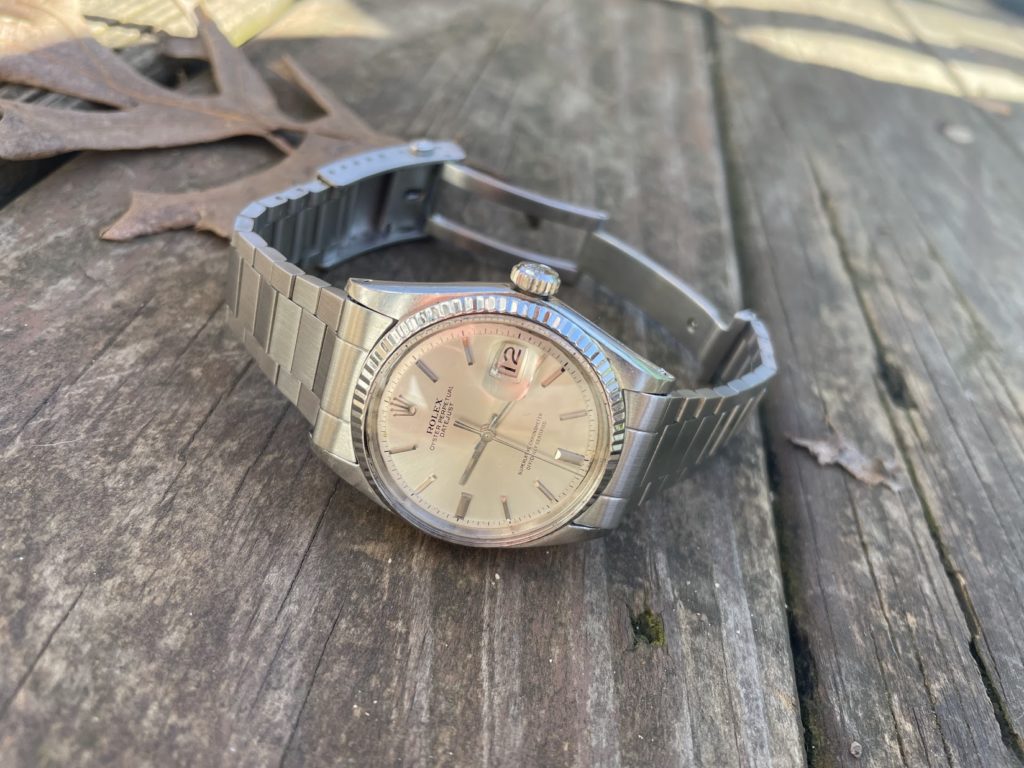 First, some info on the model I chose. This one is a 1970 Datejust cal. 1601. The movement is made up of about 150 individual parts and is known for its reliability and durability. It has a power reserve of approximately 40 hours and is able to keep time to within +2/-2 seconds per day. The caliber 1601 was produced until the late 1970s and was replaced by the caliber 3035. There are, I believe, 2 versions of the 1601 and mine is the one that does not have the quickset date feature, making this watch one of the most basic, entry level Rolexes around.
Side note: if you're looking for more Rolex info, I'm a big fan of The Book of Rolex. I got this as a gift for Christmas and have really enjoyed it so far.
My Datejust has a beautifully patina'd dial, which changes from a soft white to a sunburst silver and even to a light champagne depending on the light. There is a fair amount of wear on the case, as one might expect for a 50 year old watch. The dial has some wear, but overall very crisp and in great shape. I had a local watchmaker look it over and found the movement to be in great shape, albeit probably due for a service soon.
I purchased the watch head-only. I was intent on getting it to work on one of our Uncle Straps bracelets. There were, unfortunately, no "good" fits, but I have been wearing it on this Speedmaster US1035 for a few weeks and am very happy. The end links don't sit right against the case, but it really matches that vintage vibe.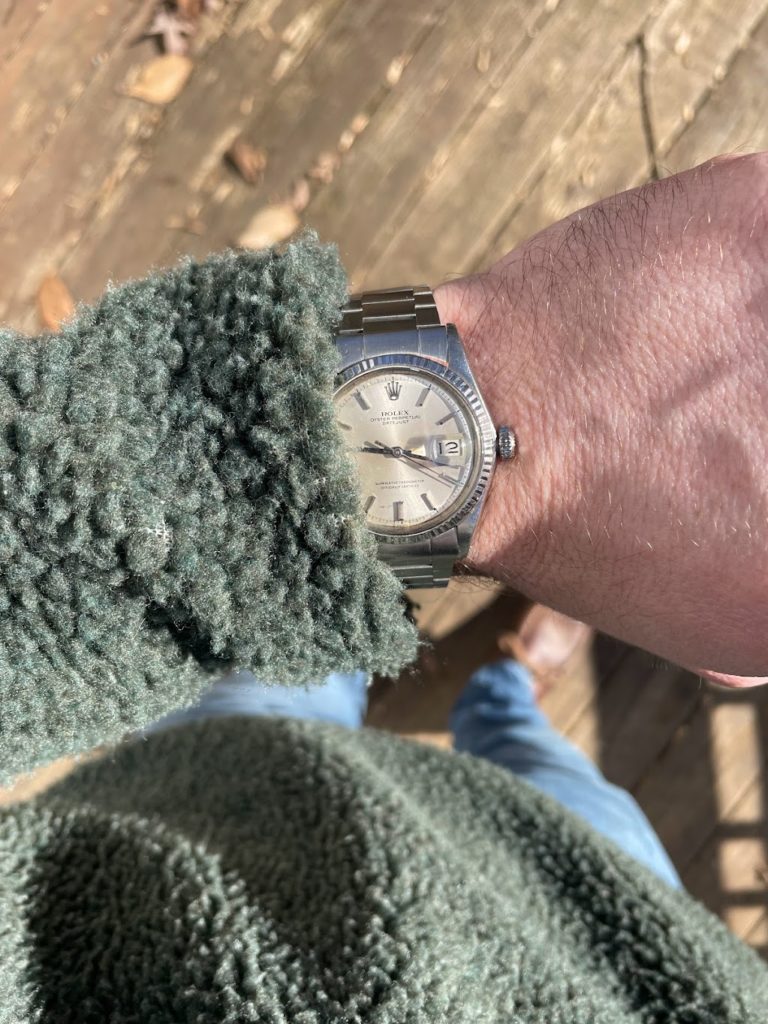 I go in depth in the video below, but the long and short of it was this: contrary to my fears about the watch falling short of my hopes, it over-delivered big time. I was (and am) blown away by the 36mm case, which wears perfectly on my wrist and seems more like 38mm. The patina, the simplicity, the fluting…it's all excellent. My only issue right now is giving my other watches the wrist time they deserve, the poor creatures.
This post may contain affiliate links. By clicking and purchasing, I may receive a commission. Thank you for supporting Bench Reviews!