It's been 4 years since I posted this side by side comparison between the G-Shock GD-350 and the W735H. Of all the videos I've made since then, and improvements to the camera, bench, my talk track, the reduction in "smacking" that so many complained about, etc – I would never have guessed that this would be far and away my most popular video to date. But, here we are!
I still own the GD-350, though it has been relegated to my truck steering wheel as an upgraded car clock. The W75H and I parted ways long ago, as is the typical deal for my review gear. However, I did want to write a companion written review for this video, going into my relationship with Casio over these last 4 years and how my thoughts have changed – so forgive my lack of W735H pics and just enjoyed the general Casio pics.
A quick aside – one thing that has not changed in the last 4 years that's featured in this video is the watch that was on my wrist then and is on my wrist as I type this – the perfect, beautiful, never-to-be-replaced-in-my-heart SKX007. *chefs kiss*
Ok, back to the digital world. For starters, let's talk about the things that haven't changed much since this review. I am still no fan of the stock Casio straps. Some are ok, and I do occasionally still wear them (the Mission Impossible really being the primary example). I still very highly recommend the "hot water trick" if you're going to be wearing them, though. I purchased a replacement strap for my World Timer that I actually really like. Here's a link to the one I got, though there are many out there.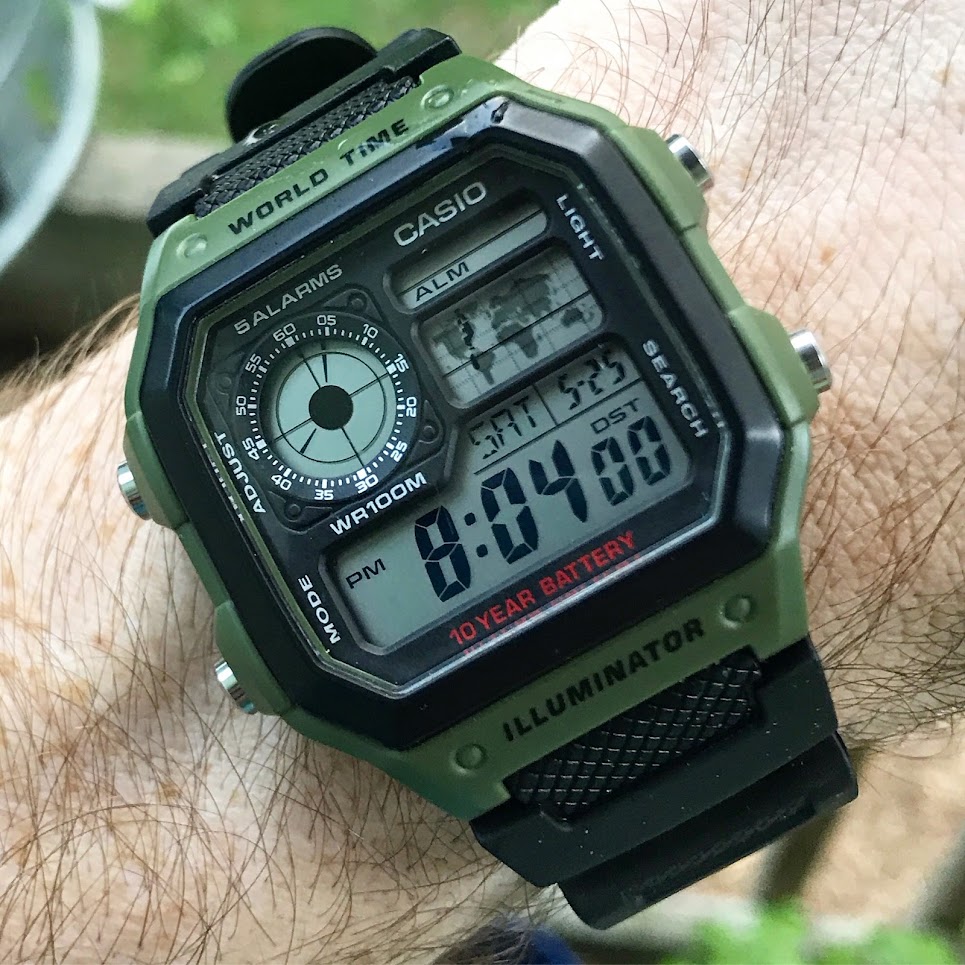 From a strap standpoint overall, I think Casio's best offering is the Combi bracelet, which can be had on several models – primarily some of the 5610 variants. I still have and wear one that I find insanely comfortable, though maybe a bit dated looking in 2021. I hope that some of the aftermarket bracelet companies will come out with Casio offerings to give some new options to the classic digital go-to pieces.
I did mention this briefly in the video, but over the years, I have continued to trend towards much smaller watches, and I've narrowed my interest in G-Shocks to the 5610 line. I did own a CasiOak last year, and I thought it was really sweet – though I ended up flipping it because at the end of the day, it was just too big to get regular wear. The budget Casio's tend to be smaller anyway, and that really appeals to me.
My interest in the vibration alarm has seriously declined over the years. I still find it pretty neat, but as I don't use any single watch as a daily wearer, the utility isn't really there for me. Likewise, the timekeeping isn't a big issue – some of the G-Shock's I'm wearing now have atomic sync, and either way I'm not a guy prone to worry about details, so the loss of seconds between various models isn't really something that keeps me up at night.
Honestly, the biggest change of heart I've had in the last few years is that I'm just not as interested in the bells and whistles of G's as I once was. I've owned lots of cool ones – and am looking down at the GW-B5600 right now. It's a classic, tried and true piece – it has everything you would ever need in a watch. But, I'm likely going to flip it. I think I'd honestly be happier with the less expensive 5610 on a combi. In fact, I think I find more joy these days in picking up a budget Casio that has some retro charm – like the Mission Impossible DW290 a friend recently gifted me – than sinking money into a higher dollar G-Shock.
I still view G-Shock's as the undisputed king in the digital watch world. The cheap Casio's are also excellent, and probably the king of the budget digitals – but the G-Shock brand is not just a marketing tagline slapped on the face to raise the price. They are fundamentally different things, and you really do get what you pay for. For someone who values the technology behind the different features available, or the R&D that goes into making them indestructible – I highly recommend them, and I will continue to wear one. However, as of current writing, the value proposition is just not there for me personally like it once was. Who knows, maybe I'll write another review in 2025 to refute these words and get you to believe whatever I am preaching then!
This post may contain affiliate links. By clicking and purchasing, I may receive a commission. Thank you for supporting Bench Reviews!